What is reflexology?
Reflexology is based on the principle that certain parts of the body reflect the whole.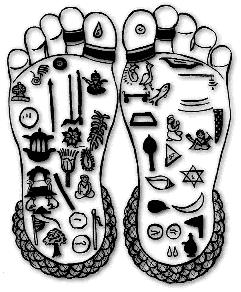 Reflex points, which relate to all parts of the body, can be found in the feet, hands and ears. These points respond to pressure, stimulating the body's own natural healing process. The body starts progressively clearing blockages, re-establishing energy flows and balancing itself, resulting in better health. There are many different styles and approaches used in reflexology; however, the basic principle is constant. Subtle yet powerful, reflexology is becoming increasingly popular in the world of complementary therapies.

Most ancient cultures had some form of foot therapy. The Native American Indian cultures, Egyptians and Chinese independently developed methods that were all based on the same principle. Centuries and social change saw much of these techniques lost to time. Reflexology as we know it today began as a theory called Zone Therapy, conceived by Dr. William Fitzgerald in the USA in the early 1900s. His protégé, Eunice Ingham, took the concept further by researching positioning and effects of certain points ultimately leading to an anatomical map of the body being overlaid onto the foot. From this point, reflexology has spread throughout the world once more, going full circle to be reintroduced to countries that had forgotten the art eons ago.

With such a rich history it is no surprise that reflexology has continued to evolve. It is widely used in hospitals in China and many European companies now have reflexologists on staff to combat stress in the workplace.

In the West in recent years, therapists have been exploring ways of influencing and balancing the subtle energies of the body through the feet and hands. Increasingly, acupressure points and concepts relating to energy therapies are being used within a reflexology session.

Ancient Chinese philosophies are the basis of a number of new approaches where consideration of such principles as meridians, yin/yang and the Five Phases Theory is taking our concept of wholism a step further.

Magnets, special oils and colour in the form of a crystal torch are sometimes applied to the reflexes. Many reflexologists will include gentle holds that link reflexes together to encourage and balance energy flow.

Hand and ear reflexology, although not new, are being used more widely now in addition to foot reflexology. Therapists may use foot, hand and ear reflexology in the one session, or select the reflex area they feel is most appropriate for the client.

In Australia, reflexologists are training in a wide variety of methods and techniques. This means that the therapist can provide a reflexology session uniquely suited to the specific needs of each client.

As a therapy reflexology is not invasive - only the feet, and / or hands and ears are worked. It is deeply relaxing yet surprisingly energizing - all part of its balancing capacity. You may feel you are being pampered during a reflexology session but do not underestimate the powerful effects this treatment can have on all of your body systems.

Reflexology is a wonderfully relaxing therapy that can work on many levels, soothing, calming, balancing and boosting your entire body. All body systems benefit from reflexology but you may notice the affect on your circulation, nervous and lymphatic systems in particular. Research in these areas is beginning to support these facts.